For the last 18 months, a select group of early career conservationists have been working in partnership with the International Rhino Foundation (IRF) team through the Emerging Wildlife Conservation Leaders (EWCL) program. Six diverse professionals are committed to supporting our Sumatran rhino program, bringing unique skills and resources to supplement the objectives of the Sumatran Rhino Survival Alliance.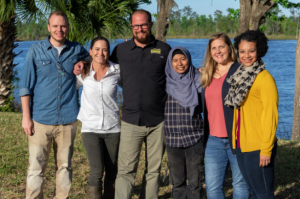 The EWCL group collaborated with the Sumatran Rhino Sanctuary (SRS) keepers to develop this quiz where you can discover your Inner Sumatran Rhino! This new feature of our website allows everyone to get to know seven special rhinos in a whole new way. 
You can help spread awareness for Sumatran rhinos by sharing this quiz. You are also welcome to link to it from a website, blog or other site. Lastly, did you know you can adopt a rhino?
If you would like to host this quiz directly on your site, please contact IRF at media@rhinos.org.
Thank you for playing!